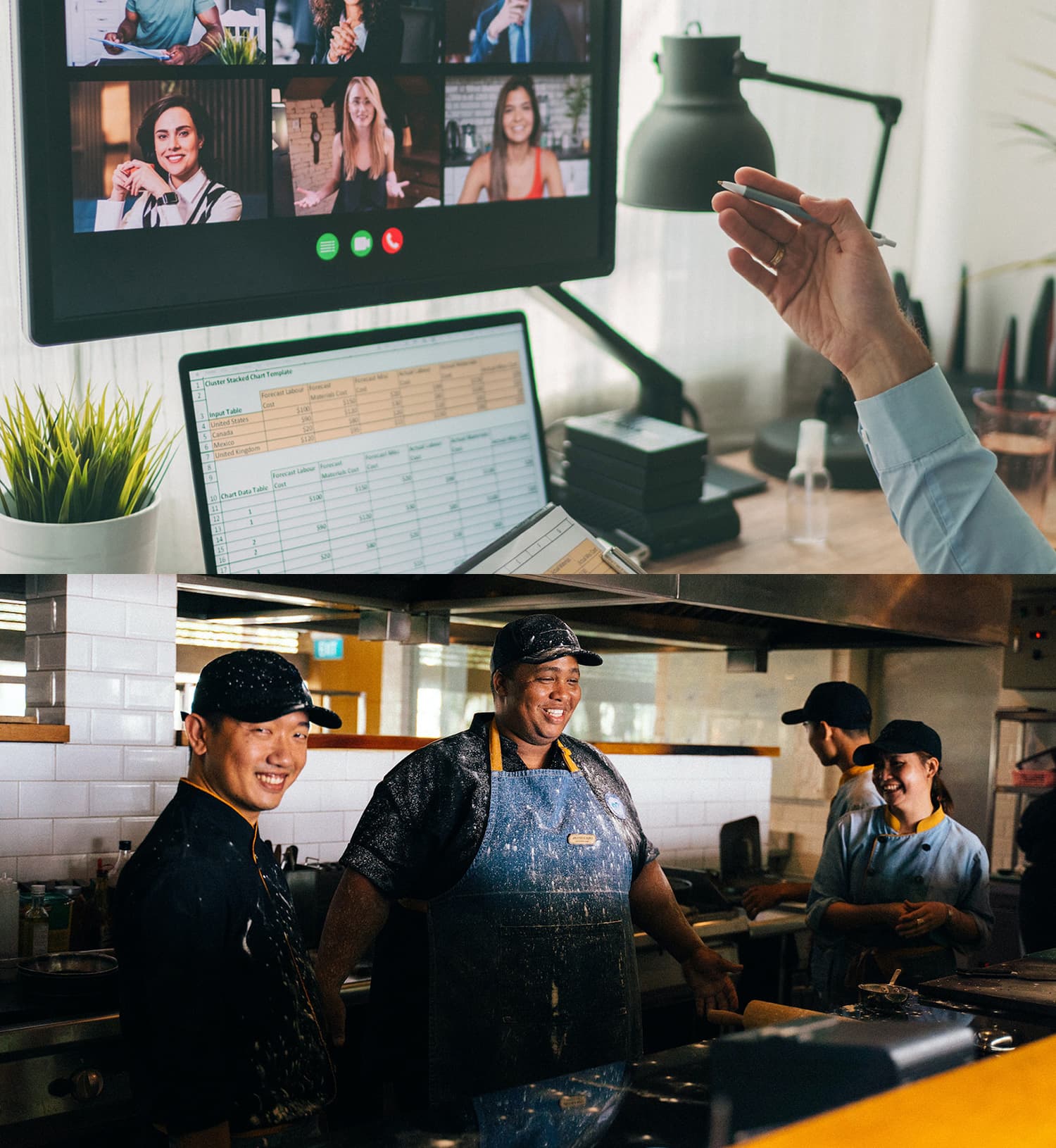 Listen to Lead: Raise Retention and Boost Business
How to convert employee insights into growth
THE LAB FRAMEWORK
Listen, Act, Be Accountable
Seismic changes in the employment landscape have reframed the future of work. Listen to Lead introduces a new framework – Listen, Act, Be Accountable – and takes companies through a learning journey to understand and value employee voice as critical to resilient, sustainable, and successful business operations.
Listen

Act

Be Accountable
Vetted By Industry Experts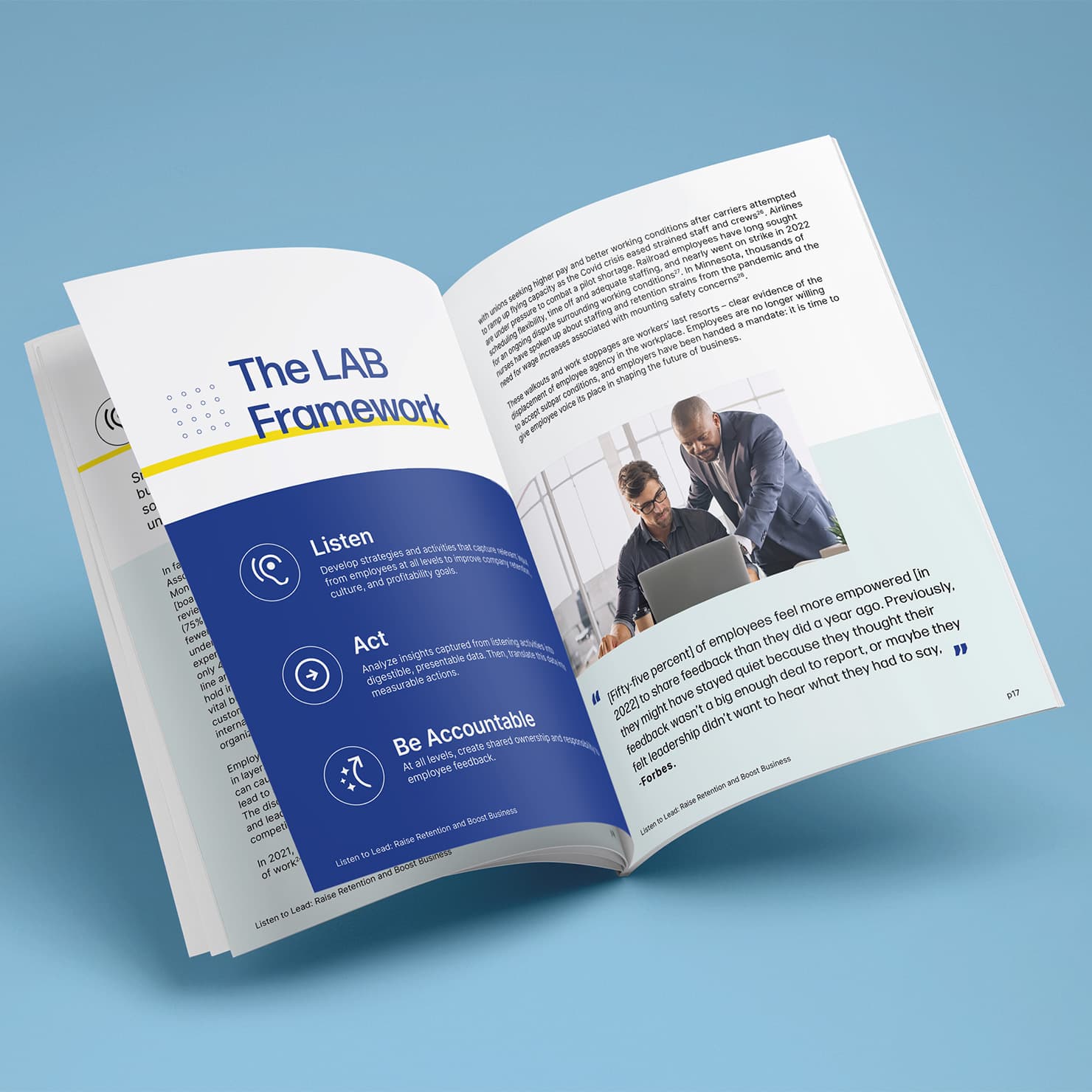 71%
of executives say that employee engagement is important to organizational success
– Harvard Business Review
51%
of global executives identified employees as a top three stakeholder
– Russell Reynolds Annual Global Leadership Monitor
52%
of voluntarily exiting employees say their manager or organization could have done something to prevent them from leaving
– Gallup 
Listen to Lead Highlights
LAB Framework

An actionable framework to fast-track company growth and cultural change

Tools & Resources

Tools and resources for operationalizing employee insights

Case Studies

Studies from organizations who increased their competitiveness through employee engagement
CASE STUDY FROM THE GUIDE
Chipotle:
Eddy's Story

Verizon:
Eddie's Story
"

In 2023, there is a heightened level of communication and transparency expected from corporations when it comes to their employees. And both consumers and investors increasingly want to know that employers are paying fair wages, providing healthcare and paid leave, and ensuring safety in the workplace, so that they attract and retain the best talent. To compete successfully today, maintaining leadership in employee engagement is critical. This starts with listening, and it continues with action.

"

-Martin Whittaker,CEO, Just Capital

"

Leaders often forget the power and importance of a simple coffee, a simple question, and just listening before we make assumptions about our team members. Listening not only helps to retain existing employees, but also helps with onboarding new employees. Finding the time to commit to listening strengthens company culture by showing that you care.

"

-Dr. Rachel Pacheco,PhD, a management author and professor at Georgetown University McDonough School of Business

"

Great leaders don't command. Great leaders listen.

"

-Gautam Mukunda,Harvard Kennedy School, Host, Nasdaq's World Reimagined with Gautam Mukunda and Author "Indispensable: When Leaders Really Matter"

"

Listening is so important in these fast-changing times. It's how we learn where our employees are thriving, and how we can best support them.

"

-Barbara Humpton,CEO, Siemens USA

"

For our guests, Luke is not the face of Luke's Lobster, and neither am I. Our teammates are. They are the ones that talk to our guests, learn who they are, why they came, what they like and don't like. They turn first-time visitors into regulars. And they handle our product constantly, while we as leaders can't do that. So they're the experts. Our company would not still be here today if we didn't put our team's feedback first when we make decisions about the company.

"

-Ben Conniff,Co-Founder & Chief Innovation Officer, Luke's Lobster

"

Deep listening practices with my team has helped me go beyond knowing what our workplace culture looks like. Now, I also understand better how it feels. Once you get a pulse on your internal culture, it's important to act on what you hear. By listening, I've acted on empowering my team with more decision-making. I already see examples of a more joyous and liberating work experience. We're on the road to creating a thriving culture that leads to better results.

"

-Jorge Fontanez,CEO, B Lab United States & Canada

"

A culture where all belong and feel valued starts with authentically engaging and prioritizing employee voice.

"

-Ted Castle,Founder, Rhino Foods, Inc.

"

Our team members are key stakeholders. Their concerns matter as much as our clients' concerns because they help drive if, when, and how we deliver mission impact.

"

-Randell Leach,CEO, Beneficial State Bank

"

In order to be the most effective at advancing the business case of investing in the worker, we must take a data-driven approach to measuring job quality, and clearly demonstrate that workforce investments can lead to positive business and financial outcomes. Creating tools and instruments to quantitatively measure job quality that are voice-of-the-worker informed and focused on what employees want – good jobs – and not what companies want – greater productivity – will further help strengthen the case. We believe that good jobs aren't just good for society, they are good business.

"

-Warren Valdmanis,Partner, Two Sigma Impact
Our Partners
A coalition of organizations supported by the Ford Foundation developed The Business Case for Listening, a guide to help leaders understand the value of capturing and acting on employee voice to build more resilient and competitive companies.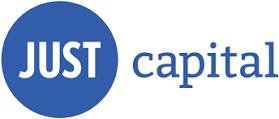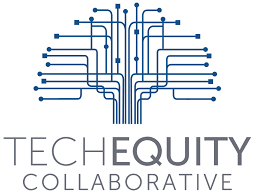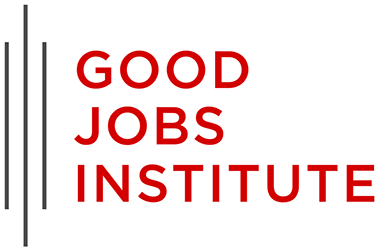 Download